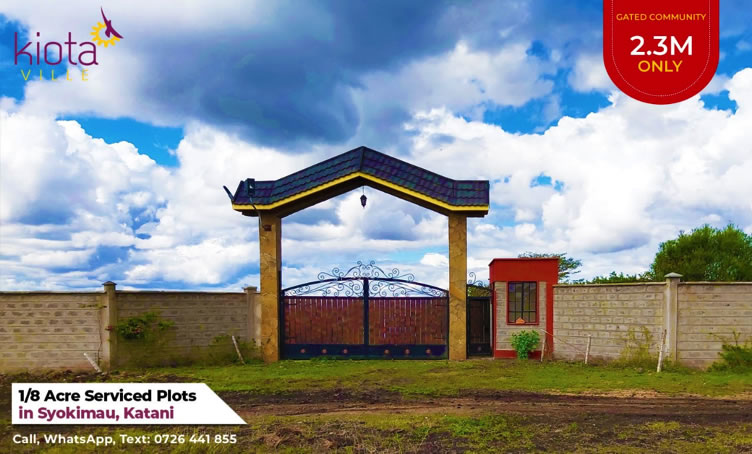 16 Aug 2019.

Why It Is the Best Time to Invest in Katani

Katani, once an isolated area a few years ago has now grown into an estate full of exclusive maisonettes and bungalows. It's no longer an area with potential but an ideal location for investors.

I have visited Katani almost every week since 2018 while taking clients for a site visit to our project Kiota Ville by Ashera Holdings which is almost sold out. "Each week a gorgeous new home is BEING constructed in Katani area", says Michael, a sales and marketing executive at Ashera Holdings.

With the ongoing construction of Mlolongo – Kware – Katani Link Road with Phase One almost complete, this has swiftly opened up Katani in an amazing way.

This major infrastructure development is driving Katani to greater heights.
With the, I have seen Katani transform from an inaccessible empty neighbourhood due to the poor road network to what it is now, well connected tarmacked road to Mombasa road and the beautiful homes around. "Having just been posted at the Inland Container Depot (ICD) along Mombasa road, I went out looking for the most ideal location to buy and build my home", says Kevin, a resident in Katani and an employee of Kenya Ports Authority (KPA) with a young family. "The nature of my job entails having to work at odd hours, at times night shift and frequent travel to our KPA head office in Mombasa. My main concern was an area with good schools, good security and strategically located near both JKIA and the Standard Gauge Railway(SGR)Station and Katani was the right spot for me and I have no regrets to date."The Katani area is strategically located next to the Jomo Kenyatta International Airport(JKIA)and the Standard Gauge Railway (SGR)Station making it a perfect residence for individuals who are always in and out of the country or working along Mombasa road and Nairobi CBD.
Katani boasts of good schools, the likes of Viraj International Academy, SFS Integrated Primary School, Brighton International School, Divine Word Boys High School, Katani Primary School among many others.
The recently opened Katani Hospital which was officially opened by the Former Prime Minister Raila Odinga, Wiper Leader Kalonzo Musyoka, Ex-Machakos Senator Johnstone Muthama among other dignitaries shows the tremendous growth in the health infrastructure in Katani. Some of the available health facilities in Katani include Katani Dispensary, St.Francis Dispensary, St Assisi Sisters of Mary Immaculate Nursing Home and Airport Medical Centre.
"Driving around Katani I was mesmerised by the beautiful house designs used by most homeowners, Gorgeous house finishing and landscaping, clearly expressing a steady increase in population of the upper-middle-class in and around Katani, which means demand for both housing and land is set to increase.
That one lazy Saturday or Sunday afternoon, take a drive around Katani behind Syokimau or talk to Kiotaville by Ashera Holdings and see the possibility of you investing in the hottest spot in Real Estate investment currently.